La infanticida (1898), de Caterina Albert (cuyo pseudónimo fue Víctor Català), se adaptará a un cortometraje de animación.
"Téngase en cuenta que Nela no es un ser perverso, sino una mujer cegada por una pasión; que obró, no por su libre voluntad, sino empujada por las circunstancias y con el espíritu prisionero entre dos paralelas inflexibles: el amor a Reiner y la amenaza de su padre; aquel empujándola hacia la culpa, el otro, mostrándole el castigo; las dos, a la vez, llevándola a la locura". Así caracteriza Caterina Albert al personaje de su monólogo dramático, La infanticida (1898).
Caterina Albert Paradís (1869-1966) nació en L'Escala, un pueblo de pescadores situado en L'Alt Empordá (Cataluña). En 1898 se presentó a los Juegos Florales de Olot con dos obras: el poema "Lo llibre nou" ["El libro nuevo"] y el monólogo La infanticida, el cual provocó un escándalo cuando se supo que había sido escrito por una mujer. La infanticida trata sobre una joven campesina que decide matar a su hija recién nacida, pues teme lo que su padre le puede hacer con la hoz si se entera que ha sido deshonrada. Fue a partir de ese revuelo que la escritora adoptó un seudónimo masculino: Víctor Català. Más adelante dirá: "No les parecía correcto que yo contase la historia de un infanticidio. Y no obstante, ¿puede acaso tener límites la obra del artista?"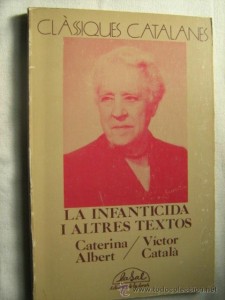 La infanticida [The Infanticide] (1898) by Caterina Albert (writing under the pseudonym Víctor Català) will be adapted into an animated short film.
Caterina Albert Paradís (1869-1966) was born in L'Escala, a small town of fishermen in L'Alt Empordá (Catalonia). In 1898, she sent two texts to participate in the Jocs Florals [Floral Games] celebrated in Olot: the poem 'Lo llibre nou' ['The New Book'] and the dramatic monologue La infanticida [The Infanticide]. A scandal arouse when they discovered that the author of this theatrical piece was a woman. The monologue tells the story of a peasant girl who is fearful of what her father can do to her with his sickle if he finds out that she has 'lost her honour'. So, she decides to kill her newborn daughter. Due to the scandal, Caterina Albert decided to adopt a masculine pen name, Víctor Català, which she continued to use throughout her writing career. Later on she said: 'They didn't think it was correct that I had told the story of an infanticide. Nevertheless, can the work of an artist have limits?'